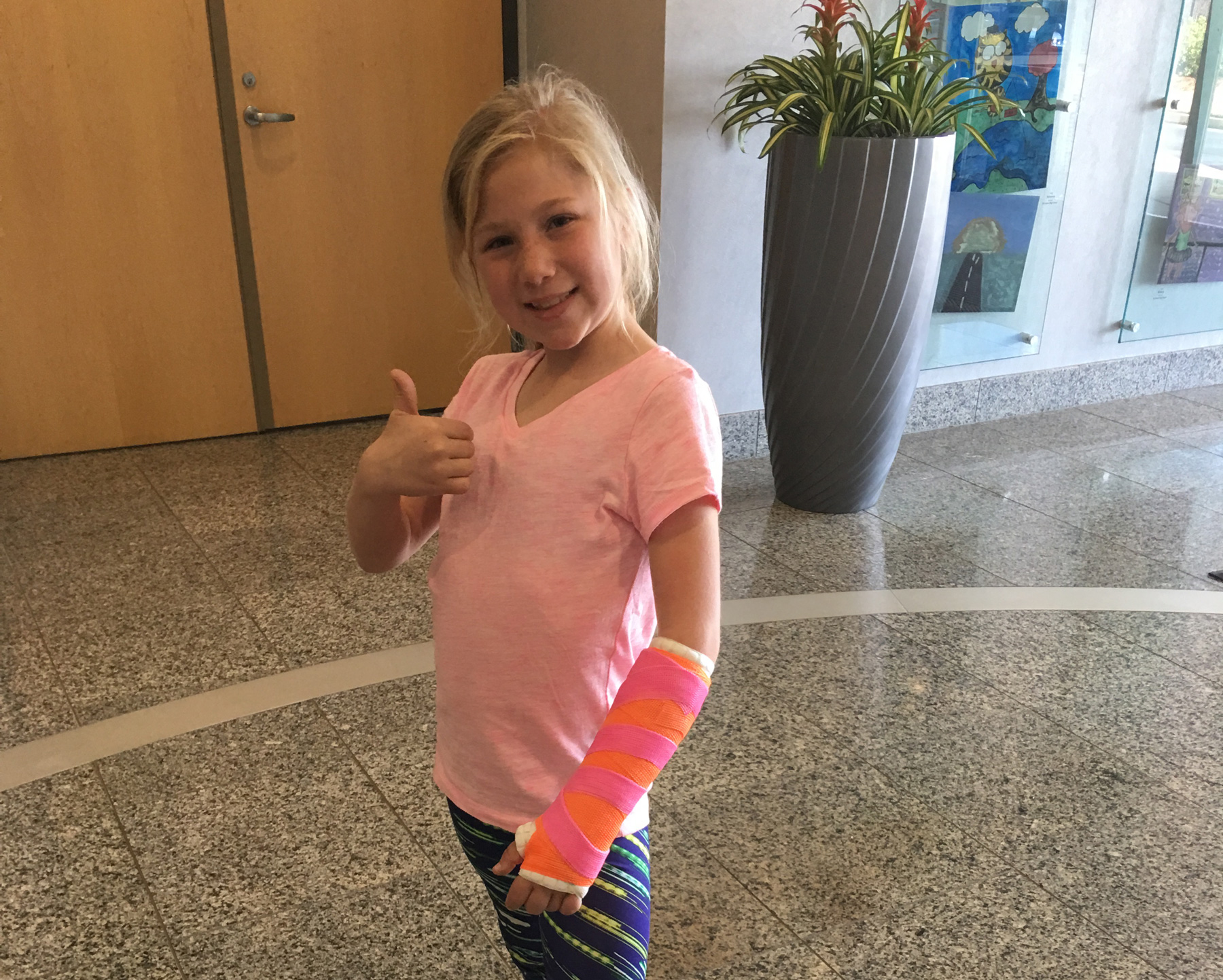 We all experience adversity in our lives – both personally and professionally. The mindset with which we tackle those moments – from the onset – can determine where we "land".
Miller (pictured above) is my 8-year old daughter and youngest of three. Recently, she fell off the high beam in gymnastics and broke her arm in 2 places. The picture is taken immediately after a doctor's visit where a new cast was put on. Her smile and the thumbs up sign says it all. Miller was tackling her recovery full steam.
Miller's personality is like no one I have ever met before. She has an infectious smile and is 100 miles per hour all the time, only stopping when she sleeps. Miller is much like her mother in that she lights up any room she enters. People are drawn to her. She has taken that same positive attitude to her arm recovery.
Doctor's instructions to Miller were to rest and elevate the arm for the first 48 hours to prevent swelling. Being in second grade, 48 hours was a little hard for her to grasp. I believe she asked her mother and me at least 48 times in the first 2 hours whether it had been 48 hours yet. Her restless, always active demeanor made sitting and relaxing very difficult. However, she adjusted and followed the doctor's orders, and is therefore healing nicely. Very soon, she'll be cleared to start conditioning her arm through rehabilitation and will be back to playing two sports six days a week.
I want to highlight a few others whose positive attitudes are allowing them to overcome even more challenging adversity than Miller is currently experiencing. Their journeys to overcome specific physical ailments have become an inspiration to many people with whom they have come into contact.
Recently I shared on LinkedIn a story about Jake Diekman, a pitcher with the Texas Rangers who was diagnosed with Colitis when he was 10 years old. After numerous flare-ups, the doctors recommended that Diekman have his colon removed. He is about to have his second of three surgeries and is looking at a 6-9 month recovery. During these struggles, Diekman has created a t-shirt that reads "Gut It Out" and is selling them for charity and to raise awareness of Crohn's Disease and Colitis. Diekman has been open about his struggles with the illness and wants to help others facing similar battles. He has every intention of pitching again in the big leagues and can't wait to get past the surgeries and begin his recovery.
My second story is that of Olivia Lettich, a 11-year old girl who, at 4 months of age, was diagnosed with a rare form of eye cancer. Since that time, Olivia has had 9 rounds of chemotherapy and 50 radiation treatments, and has lost her right eye. She is legally blind in her left eye and can only see peripherally. Her favorite sports team, the National Hockey League's Calgary Flames, gave her family 6 tickets and allowed her to meet members of the team. The Flames organization also worked with a company to equip her with special glasses so she could see the game for the first time. Fittingly, her team won the game 5-2. Clearly, her will to see and experience life at its fullest lifted her above the adversity she has faced her entire life.
My final story is that of Grace Bunke, a 13-year old from Marietta, Georgia who, in August 2014, was diagnosed osteosarcoma (bone cancer) in her left femur. She chose to have her leg amputated above the knee and have rotationplasty. This allowed her to continue to stay active in running and swimming while she prepares for her dream to compete in the Paralympics. People refer to her as "Amazing Grace" due to her eternally positive attitude and outlook.
Are you currently facing one or more forms of adversity? How are you tackling it? Do you have a plan for recovery that you are embracing? How will you use this adversity to propel you to excellence? Can you help others facing similar challenges by sharing your story? If you enjoyed this article, read our recent post on keys to overcoming adversity as a leader.